Toyota Camry

Owners Manual

When driving » Driving procedures » Engine (ignition) switch (vehicles without a smart key system)

Changing the engine switch positions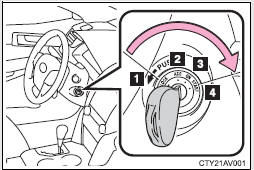 1 "LOCK"
The steering wheel is locked and the key can be removed.
(The key can be removed only when the shift lever is in "P".) 2 "ACC"
Some electrical components such as the audio system can be used.
3 "ON"
All electrical components can be used.
4 "START"
For starting the engine.
More about «Engine (ignition) switch (vehicles without a smart key system)»:
Changing the engine switch positions