Toyota Camry

Owners Manual

Before driving » Adjustable components (seats, mirrors, steering wheel)

Head restraints
Head restraints are provided for all seats.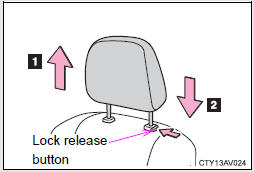 Vertical adjustment (front seats)
1 Up
Pull the head restraints up.
2 Down
Push the head restraint down while pushing the lock release button.
■Removing the head restraints (front seats)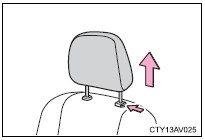 Pull the head restraint up while pressing the lock release button.
■Installing the head restraints (front seats)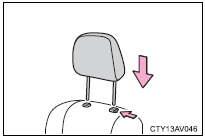 Align the head restraint with the installation holes and push it down to the lock position.
Press and hold the lock release button when lowering the head restraint.
■Adjusting the height of the head restraints (front seats)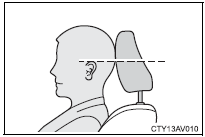 Make sure that the head restraints are adjusted so that the center of the head restraint is closest to the top of your ears.
CAUTION
■Head restraint precautions (front seats) Observe the following precautions regarding the head restraints. Failure to do so may result in death or serious injury.
●Use the head restraints designed for each respective seat.
●Adjust the head restraints to the correct position at all times.
●After adjusting the head restraints, push down on them and make sure they are locked in position.
●Do not drive with the head restraints removed.
More about «Adjustable components (seats, mirrors, steering wheel)»:
Head restraints