Toyota Camry

Owners Manual

When driving » Operating the lights and wipers » Headlight switch

Turning on the high beam headlights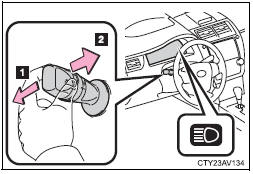 1 With the headlights on, push the lever away from you to turn on the high beams.
Pull the lever toward you to the center position to turn the high beams off.
2 Pull the lever toward you and release it to flash the high beams once.
You can flash the high beams with the headlights on or off.
More about «Headlight switch»:
Turning on the high beam headlights