Toyota Camry

Owners Manual

Interior features » Using the storage features » List of storage features

Bottle holders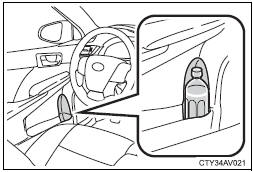 Front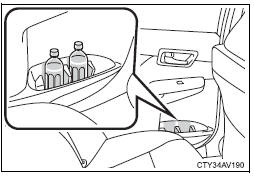 Rear
■When using the holder as a bottle holder
●When storing a bottle, close the cap.
●The bottle may not be stored depending on its size or shape.
CAUTION
■Items unsuitable for the bottle holder Do not place anything other than a bottle in the bottle holders.
Other items may be thrown out of the holders in the event of an accident or sudden braking and cause injury.
NOTICE
■Items that should not be stowed in the bottle holders Put the cap on before stowing a bottle. Do not place open bottles in the bottle holders, or glasses and paper cups containing liquid. The contents may spill and glasses may break.
More about «List of storage features»:
Bottle holders