Toyota Camry

Owners Manual

Interior features » Using the storage features » List of storage features

Coin holder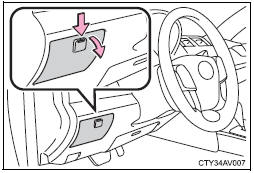 Pull the lid down while pressing down the button.
CAUTION
■Caution while driving Keep the coin holder closed. In the event of sudden braking, an accident may occur due to an occupant being struck by the open coin holder or the items stored inside.
More about «List of storage features»:
Coin holder