Toyota Camry

Owners Manual

Interior features » Using the air conditioning system and defogger » Automatic air conditioning system

Defogging the windshield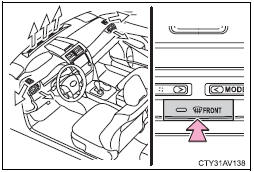 Press

.
The dehumidification function operates and fan speed increases.
Set the outside/recirculated air mode button to the outside air mode if the recirculated air mode is used. (It may switch automatically.) To defog the windshield and the side windows early, turn the air flow and temperature up.
To return to the previous mode, press

again when the windshield is defogged.
More about «Automatic air conditioning system»:
Defogging the windshield