Toyota Camry

Owners Manual

Interior features » Using the audio system » Using the CD player

Lens cleaners
Do not use lens cleaners. Doing so may damage the CD player.
NOTICE
■CDs and adapters that cannot be used Do not use the following types of CDs or 3 in. (8 cm) CD adapters or Dual Disc.
Doing so may damage the CD player and/or the CD insert/eject function.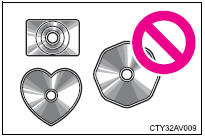 ●CDs that have a diameter that is not 4.7 in. (12 cm)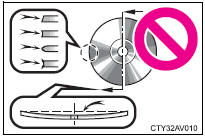 ●Low-quality and deformed CDs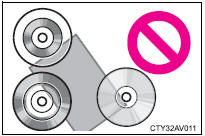 ●CDs with a transparent or translucent recording area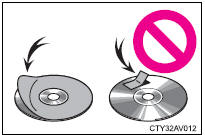 ●CDs that have had tape, stickers or CDR labels attached to them, or that have had the label peeled off
NOTICE
■CD player precautions Failure to follow the precautions below may result in serious damage to the CDs or the player itself.
●Do not insert anything other than CDs into the CD slot.
●Do not apply oil to the CD player.
●Store CDs away from direct sunlight.
●Never try to disassemble any part of the CD player.
More about «Using the CD player»:
Lens cleaners