Toyota Camry

Owners Manual

Before driving » Opening, closing and locking the doors and trunk

Unlocking and locking the doors (front door handles only)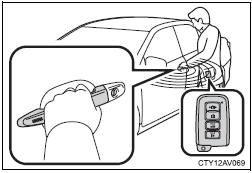 Grip the driver's door handle to unlock the door. Grip the passenger's door handle to unlock all the doors.* Make sure to touch the sensor on the back of the handle.
The doors cannot be unlocked for 3 seconds after the doors are locked.
*: The door unlock settings can be changed.
Touch the lock sensor (the indentation on the side of the door handle) to lock the doors.
More about «Opening, closing and locking the doors and trunk»:
Unlocking and locking the doors (front door handles only)