Toyota Camry

Owners Manual

Interior features » Using the audio system

Using the AUX port
This port can be used to connect a portable audio device and listen to it through the vehicle's speakers.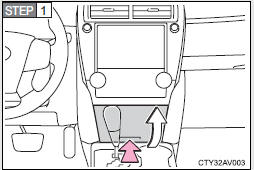 Push the lid.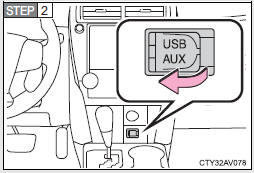 Open the cover and connect the portable audio device.

Press

repeatedly until "AUX" is displayed.
■Operating portable audio devices connected to the audio system
The volume can be adjusted using the vehicle's audio controls. All other adjustments must be made on the portable audio device itself.
■When using a portable audio device connected to the power outlet
Noise may occur during playback. Use the power source of the portable audio device.
NOTICE
■If the auxiliary box lid cannot be fully closed Depending on the size and shape of the portable audio device that is connected to the system, the auxiliary box lid may not close fully. In this case, do not forcibly close the lid as this may damage the portable audio device or the terminal, etc.
More about «Using the audio system»:
Using the AUX port