Toyota Camry

Owners Manual

Interior features » Other interior features

Ashtray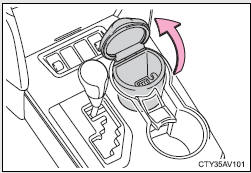 An ashtray can be installed in the cup holder.
CAUTION
■When not in use
Keep the ashtray closed. In the event of sudden braking, an accident may occur due to an occupant being struck by the open ashtray or ash flying out.
■To prevent fire
●Fully extinguish matches and cigarettes before putting them in the ashtray, then make sure the ashtray is fully closed.
●Do not place paper or any other type of flammable object in the ashtray.
More about «Other interior features»:
Ashtray