Toyota Camry

Owners Manual

Interior features » Other interior features

Vanity mirrors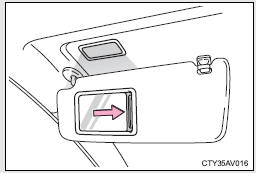 Slide the cover to open.
Vehicles with vanity lights: The light turns on when the cover is opened.
■To prevent battery discharge (vehicles with vanity lights)
If the vanity lights remain on for 20 minutes while the engine is off, the lights will turn off automatically.
More about «Other interior features»:
Vanity mirrors