Toyota Camry

Service Manual

Rear suspension

Rear wheel alignment
ADJUSTMENT
INSPECT TIRE

MEASURE VEHICLE HEIGHT
NOTICE: Before inspecting wheel alignment, adjust the vehicle height to the specified value.
3. INSPECT TOE−IN

HINT:
Measure "A + B" when "C − D" cannot be measured.

If toe−in is not within the specified range, adjust No.2 lower suspension arms.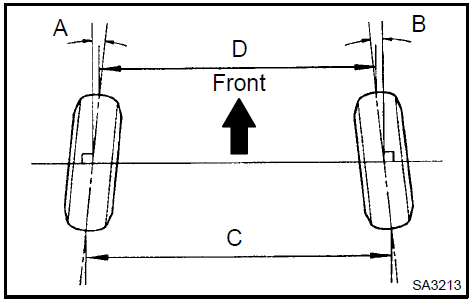 4. ADJUST TOE−IN
a. Measure the lengths of the right and left No.2 lower suspension arms.
No.2 lower suspension arm length difference: 1.5 mm (0.06 in.) or less
If the left−right difference is larger than 1.5 mm (0.06 in.), adjust it by following the procedures below.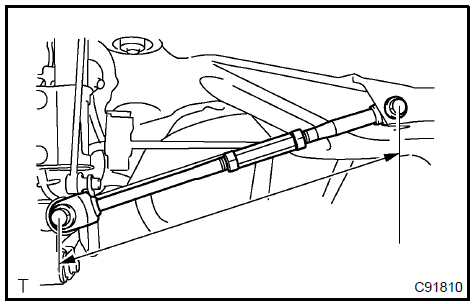 Loosen the 2 lock nuts.

Turn the right and left adjusting tubes by an equal amount to adjust toe−in.
HINT:
Try to adjust toe−in to the center value.

One turn of each adjusting tube will adjust toe−in by approximately 1.2 (1 12'), 10.8 mm (0.425 in.).
d. Torque the 2 lock nuts.
Torque: 56 N·m (570 kgf·cm, 41 ft·lbf)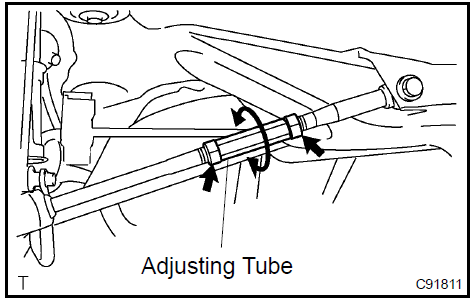 5. INSPECT CAMBER

HINT: Camber is not adjustable. If the measurement is not within the specification, inspect the suspension parts for damage and/or wear, and replace them if necessary.
More about «Rear suspension»:
Rear wheel alignment