Toyota Camry

Service Manual

Exterior/interior trim

Roof drip side finish moulding center LH
REPLACEMENT
HINT:
Use the same procedures for the RH side and LH side.
The procedures listed below are for the LH side.
When replacing the moulding, heat the body and moulding using a heat light.

Heating temperature:

NOTICE: Do not heat the body and moulding excessively.
1. REMOVE ROOF DRIP SIDE FINISH MOULDING CENTER LH
Put protective tape around the edges of the moulding.
Using a moulding remover, disengage the moulding's front and rear end clips from the vehicle. Remove the moulding.
NOTICE:
Do not remove the clips from vehicle body.
If the clips are damaged or removed accidentally, replace them.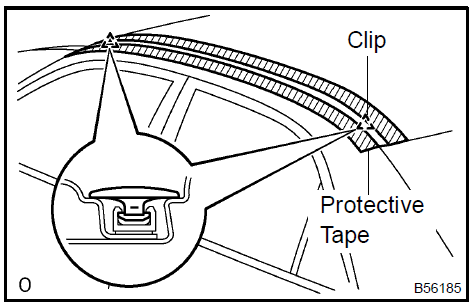 Remove roof drip side finish moulding center LH
2. INSTALL ROOF DRIP SIDE FINISH MOULDING CLIP No.1
HINT: Use the following steps a. to c. replacing the clips with the clips. If not replacing the clips, they are not required.
Remove the tape that remains on the mounting surface of the body, and then clean the surface with white gasoline.
Heat the clip installation surfaces of the body and moulding.
Install new clips in the positions shown in the illustration.

Press−fit the clips by hand.
NOTICE: After press−fitting the clips, wait 30 minutes or more before installing the moulding.
HINT:
Minimum hardening time: 30 minutes
Time needed for complete hardening: 24 hours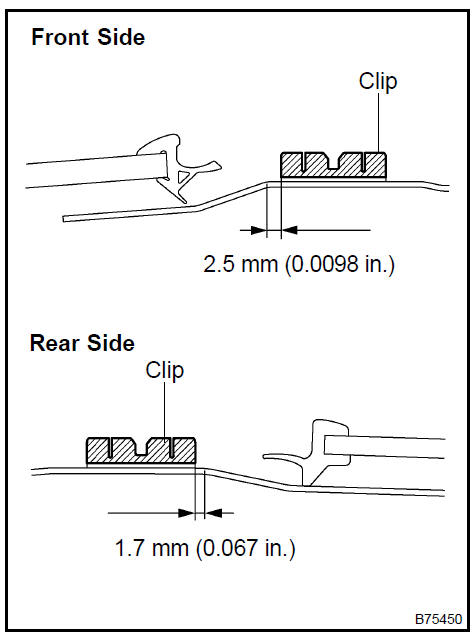 Install roof drip side finish moulding clip No.1
More about «Exterior/interior trim»:
Roof drip side finish moulding center LH