Toyota Camry

Service Manual

Cooling

Thermostat (1MZ−FE/3MZ−FE)
REPLACEMENT
DRAIN ENGINE COOLANT

REMOVE AIR CLEANER INLET ASSY

REMOVE AIR CLEANER ASSEMBLY WITH HOSE

REMOVE AIR CLEANER BRACKET

REMOVE AIR CLEANER INLET No.1

DISCONNECT RADIATOR HOSE OUTLET

REMOVE WATER INLET PIPE
a. Remove the bolt and inlet pipe.
8. REMOVE WATER INLET
a. Remove the 3 bolts and water inlet.
REMOVE THERMOSTAT

INSTALL THERMOSTAT
Install a new gasket to the thermostat.

Align the thermostat jiggle valve with the upper stud bolt, and insert the thermostat in the water inlet housing.
HINT: The jiggle valve may be set within 15 of either side of the prescribed position.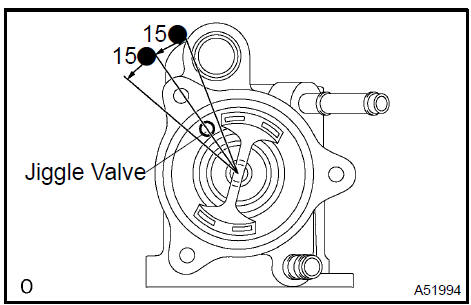 Install thermostat
INSTALL WATER INLET Torque: 8 N·m (82 kgf·cm, 71 in.·lbf)

INSTALL WATER INLET PIPE
Install a new O−ring to the inlet pipe.

Apply soapy water to the O−ring.

Connect the inlet pipe to the water inlet.

Install the bolt holding the inlet pipe to the cylinder head.

Torque: 20 N·m (204 kgf·cm, 15 ft·lbf)
INSTALL AIR CLEANER ASSEMBLY WITH HOSE

CONNECT VACUUM HOSES

ADD ENGINE COOLANT

CHECK FOR ENGINE COOLANT LEAKS
More about «Cooling»:
Thermostat (1MZ−FE/3MZ−FE)