Toyota Camry

Service Manual

Cooling

Thermostat (2AZ−FE)(From July, 2003)
REPLACEMENT
DRAIN ENGINE COOLANT

REMOVE FAN AND GENERATOR V BELT

REMOVE GENERATOR ASSY

DISCONNECT RADIATOR HOSE INLET

REMOVE WATER INLET
a. Remove the 2 nuts and disconnect the water inlet from the cylinder block.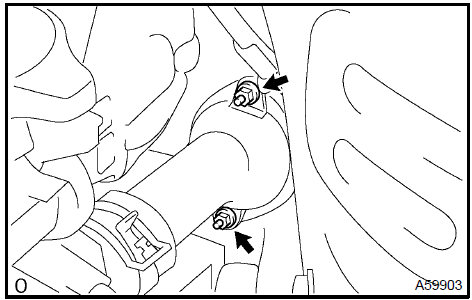 Remove water inlet
REMOVE THERMOSTAT

INSTALL THERMOSTAT
Install a new gasket to the thermostat.

Install the thermostat with the jiggle valve facing up.

HINT: The jiggle valve may be set within 10 on either side of the prescribed position.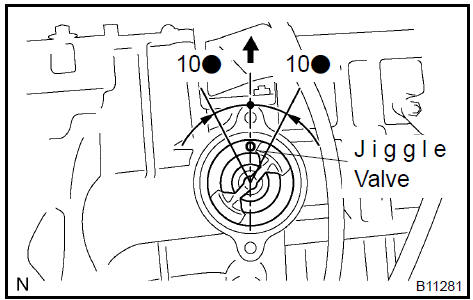 Install thermostat
8. INSTALL WATER INLET
a. Install the water inlet with the 2 nuts.
Torque: 9.0 N·m (92 kgf·cm, 80 in.·lbf)
INSTALL RADIATOR HOSE INLET

INSTALL GENERATOR ASSY

INSTALL FAN AND GENERATOR V BELT

ADD ENGINE COOLANT

CHECK FOR ENGINE COOLANT LEAKS
More about «Cooling»:
Thermostat (2AZ−FE)(From July, 2003)